All-in-one solutions from RATTUNDE – from the original idea to high-tech systems
Our Company History
From garage start-up to global technology leader! RATTUNDE AG was founded in 1990 under the name RATTUNDE & Co GmbH, as a family-run business with its headquarters in Bentwisch, Germany. +In 1995 we moved to our current headquarters in Ludwigslust, and have been active as a manufacturer in the mechanical engineering sector ever since. More than 30 years ago we started out building special-purpose machines with just a few staff members, high hopes, the spirit of invention and innovation, and the courage to blaze our own trail . To this day, we develop innovative, high- performance ACS manufacturing systems and machining centers for the metalworking industry. After several years in the market, we founded RATTUNDE Corporation as our first subsidiary in 2006, in Grand Rapids, Michigan (United States). In 2014, RATTUNDE Corporation built and moved into its new headquarters on its company premises in Caledonia, Michigan. We founded our Mexican subsidiary RATTUNDE S. de R.L. de C.V. in 2016 in order to gain proximity to our customers there and to provide first-class service to them. In 2020 we established another subsidiary in Japan, known as RATTUNDE K.K. All machines that we sell and deliver around the globe are produced at our headquarters in Ludwigslust – literally "Made in Germany".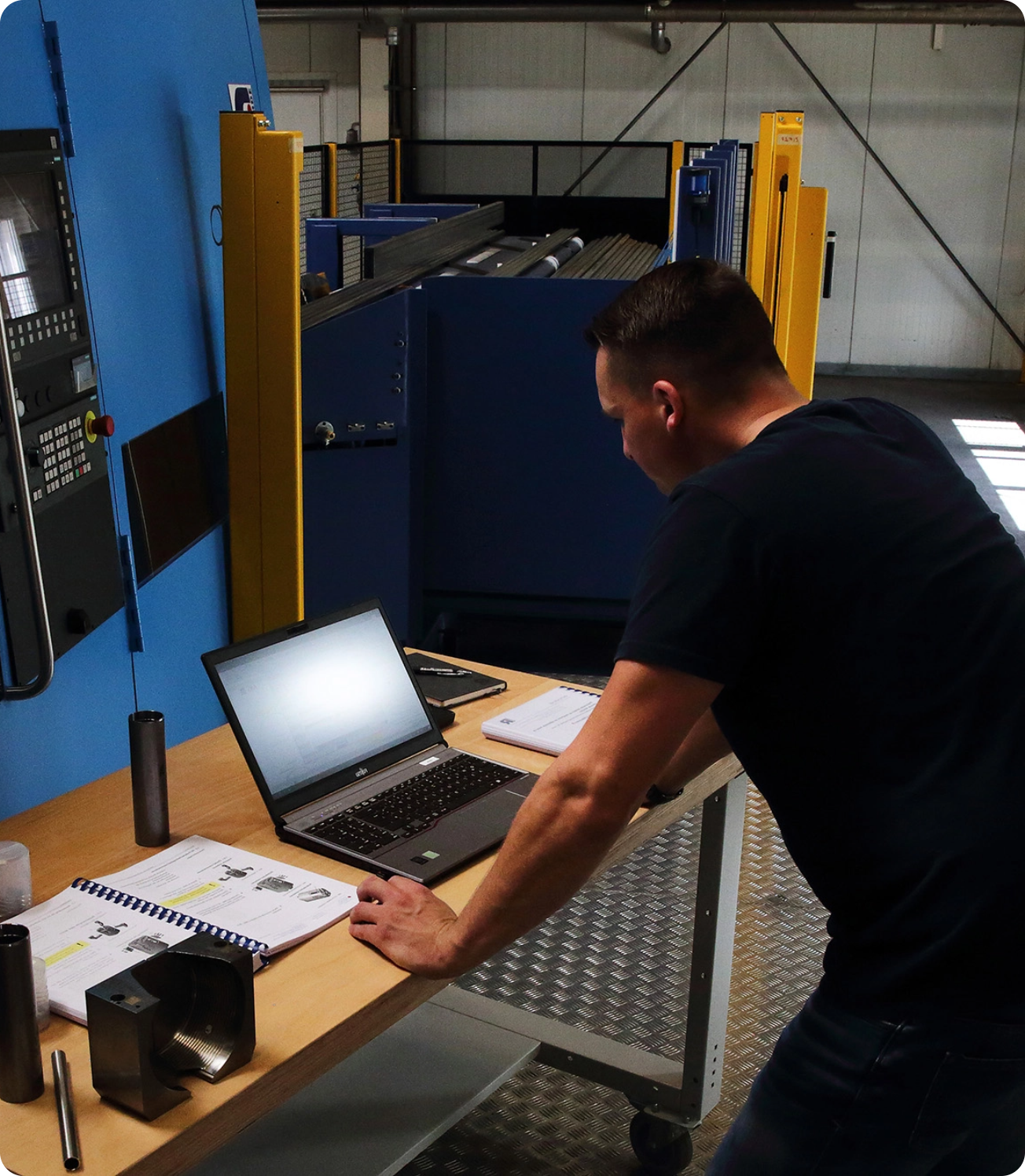 We are proud of our staff members, qualified specialists, technicians and engineers, who are passionate about researching and developing new technologies. The expertise and cutting-edge technology that goes into all our products have earned us numerous German and European patents. Day in, day out, we are motivated by the continuous pursuit of invention and innovation. Our machines are used by customers around the globe. With our systems they manufacture their products in a wide range of metal-working industries. RATTUNDE machines perform reliably in steel factories, for the manufacturers of tubes and rods, suppliers in the automotive and automobile industries, the mining industry and manufacturers of conveyor belts, in the furniture industry and in the heating and pipeline construction sector. All these customers value our forward-looking, future-proof technologies together with our innovative expertise and outstanding quality. Our machines can also be used as part of a finishing system or as components in production lines, with feeding and transfer to downstream production processes.
RATTUNDE ACS Production Systems: Intelligent production right from the start!
High Production Systems. Simply ahead.
RATTUNDE AG
In 1990 Ulrich Rattunde founded RATTUNDE & Co GmbH. Everything began in his garage in Bentwisch, a village near Wittenberge, when he built his first chipless shearing system and produced tension rods for a steel factory.

By 1993 his garage had become too small. He continued his work in a former workshop for tractors and agricultural machinery of the Landwirtschaftliche Produktionsgenossenschaft (LPG) (agricultural production cooperative) in Seetz, in the German state of Brandenburg. Development and planning work was carried out in Schwerin-Süd (Mecklenburg-Western Pomerania) in an office building of a hydraulics manufacturer, the former Volkseigener Betrieb (VEB) Hydraulik Schwerin.

By 1995 the company had outgrown this facility as well, and the commuting distance of 60 kilometers between the workshop and the office building was simply impractical. The workshop and office were relocated to Ludwigslust, to a tiny section of our current company premises. The first tube-sawing machine for the tube/pipe industry was developed here.

In 1998 we produced our first end-machining machine, which was built for large workpiece diameters and was the prototype for our current ACS CFMcurve, only a few sizes larger. Still, it was a chamfering machine for sophisticated end-machining.

In 1999 Ulrich Rattunde began designing a production system with a brush-deburring machine – the ACS BDM. It was developed as a cold circular saw for cutting pipes, profiles, solid material and rods with an integrated brush-deburring unit for deburring the material ends. This was the first system in which the basic functions of sawing and deburring of both ends were no longer linked, but directly integrated.

In 2000 the ACS BDM production system with the deburring machine was officially presented at the "Tube & Wire" trade show in Düsseldorf. This was also our company's debut in the world of trade shows.

In 2002 Ulrich Rattunde developed a second production system, this time combining the saw with a chamfering machine for chamfering workpiece ends. We christened this production system "ACS CFM".

In 2003 construction of a new production hall began in Ludwigslust, as we needed more space for more production capacity due to the high demand for our production systems.

In 2005 our first ACS production system to be shipped overseas was encased in seaworthy packaging at the port of Hamburg. Destination: Canada This was a huge step in establishing our presence in the North American market.

In 2006, after numerous small steps and additional RATTUNDE production systems shipped to Canada and the United States, the time had come to found our first subsidiary: RATTUNDE Corporation in Grand Rapids, Michigan (United States).

In 2007 Ulrich Rattunde designed and built a production system for machining tasks that had previously been accomplished only on several separate machines: it consisted of a saw with a chamfering machine for curve machining, known as the ACS CFMcurve. This enabled our customers to produce complex chamfers, radii and grooves on a single machine. Moreover, internal and external threads as well as extensive turning and center drilling within the material could now be reliably implemented without intermediate transports to other machines.

By 2010, numerous manufacturing steps had been integrated in the ACS production systems, including contour measurement. The CMS contour measurement system can be integrated in the production system (on the SCB step conveyor belt) or deliver measurement data for our customers' production as a separate unit. Workpieces come not only in longer, larger and heavier units, but also in shorter, smaller and lighter versions. Thus, we designed and produced a brush-deburring machine that can deburr even shorter workpieces in the production system: the BDM30.

In 2012 the ACS production systems learned to read QR codes with our ACSi software. When the QR code is scanned, the saw blade data is transmitted directly to the machine control system. This prevents errors in data entry and saves time when changing the saw blade.

In 2013 we focused on increasing the productivity of our ACS production systems, such as the units capable of chamfering (ACS CFM) and curve machining (ACS CFMcurve), and created our ACS CFM TWIN and the ACS CFMcurve TWIN. The TWIN machines can perform simultaneous, double-sided and synchronous end machining on two tubes, two rods or two bars.

In 2014, RATTUNDE Corporation purchased a piece of land and built a production hall and an office building there. Since then, its headquarters has been in Caledonia, Michigan (United States), on the outskirts of Grand Rapids.

In 2015 we had two reasons for celebrating! The first: the 25th anniversary of the founding of RATTUNDE & Co GmbH. The second: the founding of our subsidiary RATTUNDE S. de R.L. de C.V. in Apodaca, Nuevo Leon, Mexico. This enabled us to be closer to our existing customers and work with potential customers on site in their own language.

In 2017 we took the opportunity to acquire the factory premises of General Electric in Ludwigslust, just across the street from us! This gave us enough space to expand production. The development of our ACS production systems with brush-deburring machines proceeded apace, so that we can now manufacture the proven system with an extended brush- deburring machine, known as the BDMext (ext stands for "extended").

In 2018 RATTUNDE & Co GmbH became RATTUNDE AG. The company jointly owned by the Proksch and Rattunde families was converted into a stock corporation, in which the two families hold an equal number of shares, as before. This was an important step towards ensuring good management of the future succession of the company leadership.

In 2019 the ACS family welcomed a new member. Ulrich Rattunde had known since 1990 that sawing, i.e. cutting that produced chips and dust, was not the only option. Back then he had built a chipless shearing system in his garage, with hydraulic drives at that time. Now it was time for such a system again, but at a completely different technological level. Based on the ACS production systems and using servo technology, he designed a machine for the chipless shearing of thin-walled, challenging materials, and christened it TOP SHEAR.

In 2020 RATTUNDE AG 30 celebrated its 30th anniversary and expanded the RATTUNDE Group to include a further subsidiary. In Japan we founded RATTUNDE K.K., located on the outskirts of Nagoya, in Oharu-cho, Ama-gun, Aichi . Proximity to our existing customers and engaging in direct contact with potential new clients has always been important to us, and now we enjoy these advantages in Japan as well.